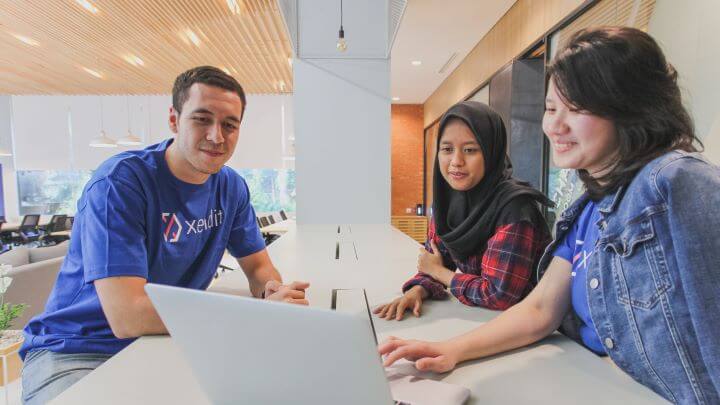 Overview
Xendit is the home of over 250 amazing people with different cultures and backgrounds. Despite our beautiful diversity, we share 5 common values:
Solve for your customers
Every person and team in this organization exists to serve their customer. Customers can be internal or external depending on your role. We are all here to listen to and understand our customers' needs and to deliver a solution that exceeds their expectations.
Build a family of honey badgers
As a startup, we don't have the luxuries afforded to other companies like excess funding, unlimited people/resources, network/influence, etc. What we have is a tight family that will continue to fight off larger threats until we win. This has been shown time and again throughout our history.
Be trustworthy
Fast-paced growth, taking on challenges, thinking outside the box, doing things we've never done before – these things can only be achieved by trust. At Xendit, we trust everyone inherently from the beginning. Over time, as you consistently thrive, you'll be trusted to take on even more opportunities and encouraged to push the envelope. Trust is central to how we operate. At the core, we trust that our xenfamily will be there to share the weight, back each other up and treat others with that same level of trust.
Be golden
Treat others as you would like to be treated. This is how we spread our culture and influence others. We also lead by example – if you want to see more of a particular behavior, then you should first model it for others – great behaviours are contagious!
Grow
Xenpeeps are the foundation of our company. If we do not grow as individuals and as a team, then our company as a whole cannot grow. It is the responsibility for each individual to grow in order to improve themselves, guide their team, and accelerate Xendit towards new heights.
If you're still reading, you're probably ready to become a honey badger at xendit – we're excited that you're considering joining us on this growth journey! Quality preparation is a key skill that we expect from everyone at Xendit, so before we embark on this recruiting adventure together,  we recommend you to look at the map.
Xendit hiring process – the candidate perspective
Having said that, don't be shocked if you don't receive a cookie-cutter approach to your interview process at Xendit. We treat everyone as the individual they are, and may tailor the speed and content of the interview process to suit you. Instead of step by step directions, use this as a general framework to give you a glimpse into what we are looking to see at each step of the way. 
A typical recruiting flow will look something like this:
Step 1: Culture interview
Format: Usually 30 minutes on a video chat using Google Meet
Who is it with: Recruiter or a hiring manager for the role
What we're looking for:
Step 2: Pre Assessment Test
Format: Online quiz or test, typically using Google Forms or Hackerrank
How: you're expected to complete the pre-assessment within a specific time period, on your own
What we're looking for: quantitative confirmation of your job-related knowledge and technical skill level
Step 3: Role-fit interview
Format: 30-60 minutes, video chat via Google Meet or in person. There may be 1-2 of these interviews.
Who is it with: a hiring manager for the role (typically this will be someone you are likely to closely work with or report to)
What we're looking for:
Account Manager Example: your interviewer might ask questions about your experience in dealing with demanding clients, your KPI's, etc.
Software Engineer Example: your interviewer might ask questions about your tech-stacks you are most comfortable with, product development success stories, problem solving experience, etc.
Step 4: Trial day(s)
Format: 1-5 days, at the nearest Xendit office
Who is it with: the hiring manager, your potential teammates, people that you're likely to work with in the role
What we're looking for:
Other things to note:
You need to bring your own laptop

You will have a trial PIC. Think of him/her as your buddy that will help you understand better about the expected outcomes from your trials and get to know Xendit better.

If you're at our Indonesia office, you'll get to taste some of the delectable dishes made in our very own XenKitchen! We have awesome chefs who help to fulfill our cravings not just once, not just twice, but four times a day!
Want to know more about Trial Days at Xendit? Check out this blog from our CEO Moses on the topic!
Step 5: Offer stage
If you make it to the offer stage, congratulations! Xendit is well known for having a tough but rewarding hiring process, so if you are invited to an offer call, it means that your culture and skills have been well regarded by the team.
This is the last step before you become an official honey badger!
Format: 30-45 minute video call on Google Meet
Note: Part One and Part Two can occur in the one meeting, or may be split (e.g. the Hiring Manager may do Part One, and Paije might do Part Two)
Who is it with: The Lead Hiring Manager for the role or Paije (Global HR)
What we will be discussing:
Part One:
Trial feedback; where you impressed us and what we'd like to see improved in your first few months at Xendit

Your key motivations for moving to Xendit

Your current/last package details

Your expectations/hopes for the Xendit Offer
Part Two:
Xendit perks

Xendit's offer

If applicable, the more complex situations, like relocation, global tax, long notice periods etc. are discussed at this stage
Things to note:
At Xendit, we are all about being open, honest and transparent. We like to be particularly direct and clear during this call to make sure we are looking after both Xendit and you! So we're looking for you to also demonstrate these qualities.
We have withdrawn from offer discussions upon finding out that candidates were not being completely honest with us, or that their motivations were very different than previously discussed (e.g. if the candidate says they mostly care about learning from others and teamwork, but then are adamant about getting a fancy job title, that's a red flag to us). So be genuine with us.
Offers are confidential – we tailor your xendit package based on where you're coming from. That's our way of making sure you feel valued. That flexibility means that we expect that you will uphold confidentiality and not talk about your offer details with anyone outside of your immediate family (e.g. your spouse).
We like to agree to a deadline to sign your official offer letter – this keeps us all accountable to a shared goal of you joining Xendit as soon as possible! If you find that you need more time, or have more questions after the offer call, we encourage you to reach out proactively and let us know what's going on! If there's a way for us to help you make the best choice for your career and growth journey, we will!
Step 6: You're hired!
If you've received and signed your Offer Letter, then it's official!! Welcome to our family!
Your journey of growing with Indonesia's top Payment Gateway company has begun. You are on your way to fulfilling your personal and professional development goals. 
It's time to dust off your ping pong bat (for the xendit ping pong tournaments), clear those vocal chords (for the regular karaoke parties), brush up on strategy (for our game nights), and get ready for all out fun and hard work!
Without a doubt, at this stage I can say that we are so excited to have you in the family, to be part of the team that will launch your personal and professional growth to the next level, and to serve our customers exceptionally well with you by our side!
Think you've got what it takes?
Find out and apply to our current openings today