Since its launch in 2019, QRIS has transformed Indonesia's e-Wallet payments landscape. QRIS, which acts as a standardized QR code, which allows users of any e-Wallet services to make payments to merchants, has more than six millions merchants in its ecosystem. With QRIS, gone are the days when one store would have to show multiple QR codes to accept payments from multiple e-Wallet providers.
"This year let's increase it (MSME adoption of QRIS) to 12 million, so that they are connected nationally and can facilitate payment transactions"

Perry Warjiyo, Governor of Bank Indonesia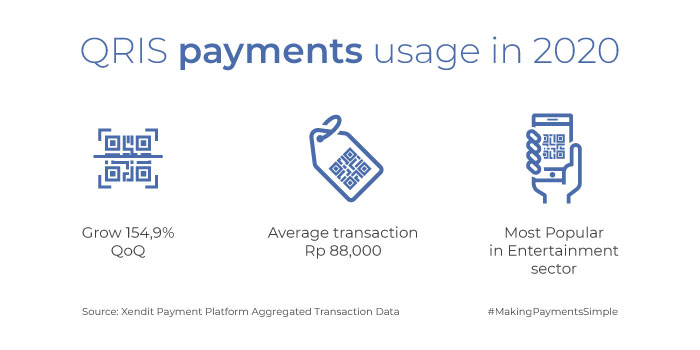 Xendit has integrated with QRIS and has offered its activation to our merchants since early 2020. Hence, we find it interesting to observe QRIS usage and trends among our merchants. We gathered the aggregated data in our platform to arrive at these interesting conclusions.
We found that the average number of QRIS transactions per merchants has gone through a steady growth, with more than 150% Quarter on Quarter (QoQ) growth. This shows an increasing customer preference on using QRIS payments for both online and offline transactions.
QRIS is mostly used for lower value transactions. Its average amount per transaction using QRIS is relatively similar to e-Wallets', which we have covered in the previous article. This is understandable as the limitation to e-Wallet, such as the introduction of maximum total balance, also applies to QRIS payments.
Despite rapid growth in recent months, QRIS usage was limited to some industry sectors. The chart below details the share of payment methods in different industry sectors, where QRIS makes up 4% and 3% of transactions in the entertainment and retail sector respectively. Outside said sectors, QRIS makes up 1% or less of the total transactions in the sector.
Adoption of QRIS payments within the entertainment sector are driven by the gaming sub-sector which charge micro-transactions, typically under Rp 50,000 for in-game items such as skins or unlocking extra-level. Similar conclusion can be said in the case for retail adoption, where QRIS is most commonly used for small basket size transactions.
How Xendit can help
Understanding its rapid adoption, businesses should consider enabling QRIS payments to satisfy customers. With Xendit, businesses can enable the QRIS payments as well as other locally preferred payment methods easily.
Businesses can generate QRIS codes both for online and offline transactions. We have also launched a QR Code management feature on our dashboard which allows merchants to generate and manage multiple QR codes to display at different locations, and track which QRIS payments come from which QR Codes.
About Xendit
Xendit is a financial technology company that provides payment solutions and simplifies the payment process for businesses in Indonesia, the Philippines and Southeast Asia, from SMEs and e-commerce startups to large enterprises. Amidst the fragmented payment landscape in Southeast Asia, Xendit enables businesses to accept payments from direct debit, virtual accounts, credit and debit cards, eWallets, retail outlets, and online installments
For many businesses, accepting payments online is new territory, but we're here to help. We have helped 1000s of businesses come online and we'd love to help you too.
Find out more about Xendit, or sign up to try our dashboard!