After a month of fasting during Ramadan, more than 200 millions Muslim in Indonesia will be celebrating Hari Raya Eidul Fitri. Consumption tends to increase during the period as Indonesia's Muslim buy new clothes, shoes, gifts and travel back to their hometown to celebrate the festival together with family and friends. The spending pattern is supported by government regulation on Tunjangan Hari Raya (THR), that oblige employers to pay an extra bonus for employees equivalent to about an additional month of pay. As consumption increases, businesses need to prepare for the surges from now as Indonesians generally tend to shop by the third week of Ramadan, or one week before the Hari Raya celebration.
Despite Covid-19 related restrictions, online shopping is minimally disrupted. Supporting sectors such as logistics and transportation are exempted from travel restrictions and are allowed to operate throughout the country. As such, it is the best time to boost your online sales. If you're interested to read more insights about the Ramadan season during Covid-19 outbreak, check out our article here.
In this article, we'll share how you can make the most of Hari Raya celebration for your business. You'll learn:
How to collect payments from your customer online

Free tools to help your business grow
A quick introduction to online payments
Xendit allows you to accept online payments from your customers wherever they are, e.g. from Jakarta, Medan or Singapore.
Your customers can pay you with:
Bank transfers

– your customers can pay into Big 4 banks meaning no transfer fees no matter what bank they are using

Cards

– debit and credit cards from all over the world

eWallets

– any of the Indonesia's major ewallets

Retail outlet

– Alfamart or Indomaret

QR codes
Once a customer pays you and the funds are received, you instantly see the balance on your Xendit dashboard, which you can access from your phone/computer.  You can then withdraw this to any of your bank accounts.
Simplicity
No more tracking receipts. We can send both you and your customer an email confirmation at the moment of payment, so that you can focus on your business, instead of on accounting.
Security
Xendit processes millions of transactions every month for customers like Traveloka, Tiket and Samsung.  Xendit is PCI DSS Level 1 compliant (the highest certification in the world) so we go to extreme lengths to keep you and your customers safe.  
Pricing
Xendit only makes money when you do.  We charge a small fee for each transaction where your customer pays you, while you can use our invoices absolutely free.
Collect Payments from Customers
Xendit is a complete payment platform that provides scalable solutions for businesses of any size:
If you already have or looking to build an eCommerce store with plugins such as WooCommerce or Shopify, check out our

guide to building eCommerce store and accept payments

.

If you own an Instagram page to showcase your products, learn how you can start accepting payments in

this article

.

You can use Xendit even when you don't have a website. Read instructions below to start accepting payments by simply sharing a link.
Step 1: Create a Xendit account
It's free to create a Xendit account and takes about 30 minutes – from start to finish:
Once you've created your account, you'll need to activate your account based on your entity. Don't worry, you can accept most payment methods even if your business isn't registered yet.
Step 2: Create, customize and manage invoices
Xendit helps you bill your customers with 2 types of invoices:
Regular Invoice ideal for billing different amount to different customers

On Demand ideal for billing the same amount to different customers
Creating Invoices
Inside your dashboard, go to the "Invoices" tab under "Accept Payments".  Click the "Create" button in the top right and generate an invoice. 
Simply fill out a unique invoice number, email address, due date, amount, and description. If you want us to send a notification and confirmation email to your customer, check the "Send Invoice to this Email" box.
Creating On Demand
Inside your dashboard, go to the "On Demand" tab under "Accept Payments".  Click the "Create" button in the top right and generate an on demand invoice.
Simply fill out a unique link name, the price, the maximum number of units you want to sell, and a description of the item.
On Demand invoice will collect your customers details such as name, email and addresses to help you organize your orders.
Step 3: Share the payment link to your customer and get paid 💸!
Sharing an Invoice
After you create your invoice, you'll see that a link has been created.  It will look something like this: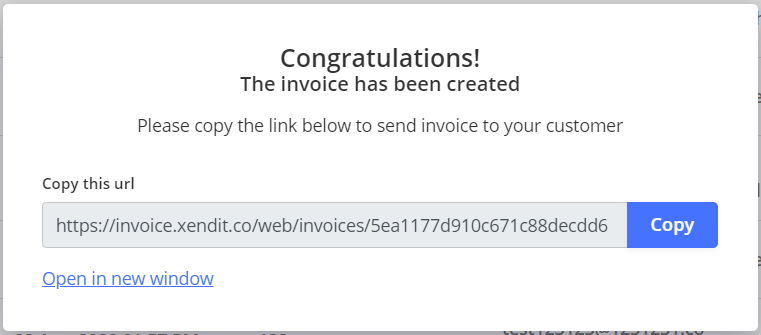 Copy that link and send it to your customer, via Instagram's direct messages, WhatsApp, LINE and any other favourite messaging app.  Your customer can pay through all the payment methods available and turned on.  You can also check the invoice status by using the same link.  
When your customer clicks the link, your customer can choose their preferred payment method to pay you with.  So, sit back and relax while your payment is processed to your account.
Sharing an On Demand link
After you create your On Demand, you'll see that a link has been created.  It will look something like this: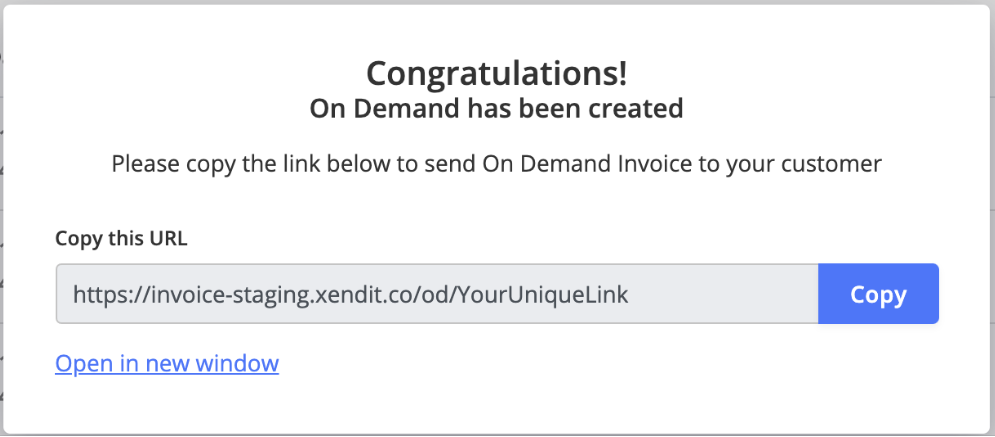 You can then put that link anywhere – on your website, in your Instagram bio, wherever you want to sell your product.
Easily monitor transactions live
Xendit helps your business streamline accounting processes by collecting your transaction history on your dashboard. 
Get instant notifications when you got paid

Access your transaction history on a centralized dashboard, with daily reconciliation for visibility and easy reporting.
Get Started with Xendit now
Accepting payment methods preferred by your customers can help to increase conversion and revenue for your business. With Xendit, easily enable payment methods such as e-Wallets, virtual accounts (bank transfers), credit / debit cards, retail outlets and even cardless credit. Get started fast with no set up or monthly fees.
Find out more about Xendit, or sign up to try our dashboard today!