Indonesia's eCommerce growth is expected to accelerate due to the COVID-19 global pandemic. Prior to 2020, Indonesia's eCommerce had already experienced rapid growth. According to Google's 2019 report, it is one of the fastest-growing markets in the world and is projected to expand at an annualized rate of 36.1%. It is expected to grow at almost double the initial speed. A study by Sirclo projected a boost of up to 91% in eCommerce market size.
Planning your digital marketing campaign calendar
As your customers are now online, you might want to consider shifting your marketing budget from offline advertising such as OOH to digital marketing with Google Ads, Facebook, or even TikTok. We recognize that most business owners may want to plan out their entire marketing calendar and strategize their spending to seasons where customers are likely to make purchases.
In this article, we will dive deeper into the topic. Using the aggregate data from our payment platforms, we outlined the optimum time for business owners to run their marketing campaigns.
Best time to run campaign by month of year
The chart below shows the monthly transaction volume of businesses in the retail sector over the past three years, where In both 2018 and 2019, transactions spiked in the well-known online shopping seasons.
While 2020 might not be the best reference point to look at due to the pandemic, the chart shows that eCommerce sales start to recover by October, echoing similar conclusions from past years.
The spike is potentially driven by a number of eCommerce players getting involved in the major online shopping events. Initially, the only celebrated online shopping events were 11.11 or Single's Day. However, in recent years, more celebrations such as 10.10 and 12.12 or National Online Shopping Day or Hari Belanja Online Nasional (Harbolnas) were introduced.
While there seems to be similar enthusiasm across the different months, October has its own advantage in generating more volume based on the virtue of it being the first.
Note that even though the number of customers who will be enticed to make a purchase during the season is quite large, business owners will also be facing competition, as most eCommerce players will be running their campaigns during this time.
Best time to run campaign by day of month
Diving deeper into each month, we found that there are some interesting recurring patterns. Transactions often started to climb up by the end of the month and peak by the start of the month. This is what can be categorized as the payday spike.
However, it is also interesting to note that the climb starts as early as the 26th. This trend may be driven by the different dates where different companies processed payrolls. In Indonesia, there is no uniform payroll date, but rather a window. Some companies would disburse payroll as early as the 25th while others do it on the first day of the month.
Interestingly, there's also a mid-month spike that occurs during the 10th, 11th, and 12th, which may have been partly driven by the shopping season (10.10, 11.11, 12.12). Transaction tends to flatten from mid towards the 20s of each month before climbing back up during the aforementioned payday.
Best time to run campaign by day of week
Unlike offline shopping where malls are typically flocked on weekends, online shopping can take place on weekdays. In fact, based on the chart below, Tuesday is the busiest day of the week.
When broken down into different industry sectors, there are some more interesting trends to look at, presented on the chart below.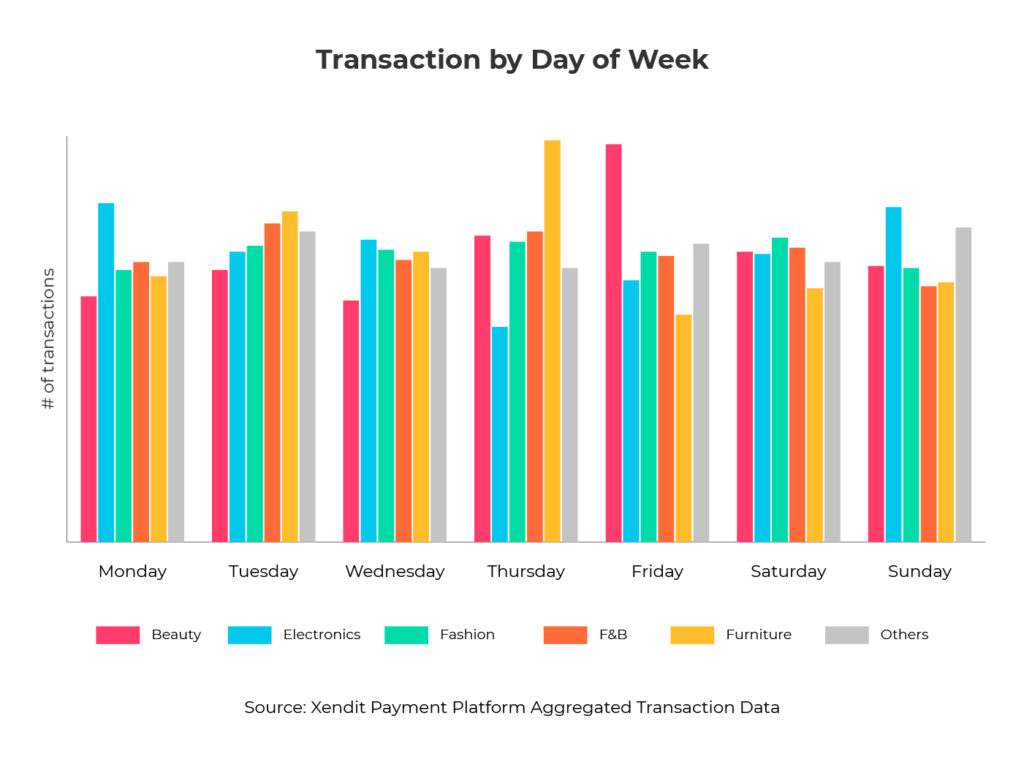 Accept the preferred payment methods for your customers segments
With a new cohort of customers coming in during the pandemic, it is important to understand their preferred payment options. Indonesia's payment landscape is unique, diverse, and highly fragmented. In fact, none of the alternative digital payment methods (cards, banks, or e-Wallets) dominates more than 50% of Indonesia's online shopping market share.
How Xendit can help your business
In a fast-changing and dynamic payment landscape with new channels and features introduced regularly, online merchants will have to keep up with the trend. With cart abandonment or payment drop-off rates can be up to 70% in eCommerce and online transactions, it is crucial for businesses to address and reduce friction to improve their customer checkout experience by enabling preferred payments options.
However, performing direct integration with multiple payment partners can be time-consuming and difficult to maintain. Merchants often have to join a long queue to integrate directly with a new payment partner. Once onboard, merchants still have to cover maintenance whenever there are updates from the partner's side.
As part of Xendit's mission to make payments simple, we enable our customers to accept a range of payment methods from cards, virtual accounts, e-Wallets, and more with a single integration. We will keep you updated with new developments in the payment landscape and offer you to enable new payment methods, without further integration hassle.
Integrate with Xendit now
Accepting payment methods preferred by your customers can help to increase conversion and revenue for your business. With Xendit, it is easy to enable payment methods such as e-Wallets, virtual accounts (bank transfers), credit/debit cards, retail outlets, and even cardless credit. Get started fast with no setup or monthly fees.
For many businesses, accepting payments online is new territory, but we're here to help. We have helped 1000s of businesses come online. If you have any questions, we're eager to help! Find out more about Xendit, or sign up to try our dashboard today!