The COVID-19 outbreak has presented both opportunities and challenges to the insurance business. There have been higher claims filed in some insurance classes such as aviation, marine, workers compensation, medical expenses, personal and travel policies. At the same time, new insurance products specifically covering COVID-19 have surfaced, together with an increase in demand for health insurance. The Economic Times reported that while health insurance offline sales dropped, online sales spiked 30% in March 2020. With social distancing measures and demand for insurance through online channels increases, it is the best time to take your insurance business online.
In the following article, we will share how Xendit can help your business and operations in both accepting and sending money.
You'll learn:
How to collect premiums with Xendit

Easily allow recurring payments for monthly or regular premium collections

How to send payments for claims and payouts with Xendit
A quick introduction to online payments
Manual premium collection and claim payment are cited as major pain points for insurtech. Bank transfer remains the dominant payment method for Indonesian. But as e-wallets, cards and other payment methods are gaining popularity among Indonesian population, insurtech businesses need to expand their premium collection through different payment channels.
Xendit can help premium collection from your customers wherever they are by enabling a variety of payment options including:
Bank transfers

– 80% of Indonesia payments. We connect with the country's Big 4 banks

Cards

– debit and credit cards from all over the world, perfect for monthly and annual charges

eWallets

– any of Indonesia's major ewallets, perfect for micro premiums

Retail outlet

– Alfamart and Indomaret, perfect for suburban cities

QR codes

(QRIS)
Once a customer pays you and the funds are received, you instantly see the balance on your Xendit dashboard, which you can access from your phone/computer.  You can manually request a withdrawal to any of your bank account or set up a one-time auto withdrawal setting.
Simplicity
No more tracking receipts. We can send both you and your customer an email confirmation at the moment of payment, so that you can focus on your business, instead of on accounting.
Security
Xendit processes millions of transactions every month for customers like Allianz, Qoala, Great Eastern, PasarPolis and Fuse.  Xendit is PCI DSS Level 1 compliant (the highest certification in the world) so we go to extreme lengths to keep you and your customers safe.  
Pricing
Xendit only makes money when you do.  We charge a small fee for each transaction where your customer pays you, while you can use our invoices absolutely free.  See our prices here.
Collecting Premiums from customers
Step 1: Create a Xendit account
It's free to create a Xendit account and takes about 30 minutes – from start to finish:
Once you've created your account, you'll need to activate your account based on your entity. Don't worry, you can accept most payment methods even if your business isn't registered yet.
Step 2: Create, customize and manage invoices
Xendit provides two types of invoices to bill your customers:
Regular invoices
Invoices are ideal for one time payment collection. You can set up the invoices expiration date and send automated reminders for each customer. You will automatically receive real-time notifications when you get paid and you can monitor all transactions in a centralized dashboard.
Recurring Invoices
Recurring invoices are ideal for subscription, perfect for monthly and annual charges. You can customize your customers billing cycle and send an automated reminder for upcoming payments.This is particularly helpful for insurance businesses where you can eliminate manual process and streamline collection and reminders of premiums due for monthly or recurring insurance subscriptions.
Xendit allows an autocharge system for credit card payments. With the autocharge system, if a credit/debit card token is tied to a certain recurring payment plan, then every future payment for that particular recurring payment will automatically be charged right after the invoice is created.
Ways to get started
Depending on your setup, you can choose to integrate with Xendit from the following options:
Live URLs where you can simply send a link via email, WhatsApp, Facebook Messenger, LINE or other platforms

APIs if you have your own online platform (Website/App/Dashboard Portal) or have more complex requirements
If you choose to integrate with Xendit using APIs, check out our documentation for more details. We also offer integration via Live URLs, which requires less technical implementation by following the guide below:
Creating Invoices manually
If you're looking to collect one time premium payment, you can create regular invoices from your dashboard. Inside your dashboard, go to the "Invoices" tab under "Accept Payments". Click the "Create" button in the top right and generate an invoice.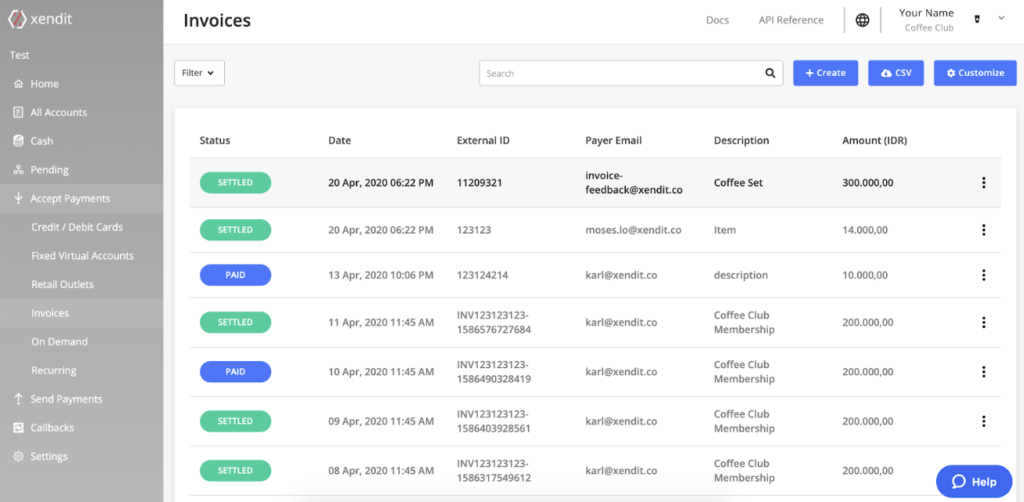 Recurring/Subscription Invoices
If you want to accept recurring payments, create a recurring charge in the "Recurring" tab under "Accept Payments" in your xendit dashboard. Simply fill out a unique invoice number, email address, amount. You can customize total recurrence, recurring interval and due date to suit your subscription needs.
Sending Claims and Payouts Quickly
Processing claims and sending payouts to policyholders in a timely manner is important to delight customers with a positive experience and maintain partner relationships. However, manual disbursement can definitely be a challenge when your business grows. 
Avoid human errors and complex processes with Xendit's money out features. Transfer up to 10,000 transactions in real time to 140+ banks (that are present in Indonesia) or eWallets destinations with a single Excel file upload with our Batch Disbursement product. We can disburse funds for you 24/7, even on weekends and public holidays, allowing you to process your customer's claim as soon as possible.
Xendit's money out product is equipped with a bank account validation feature that automatically validates transaction details to check for errors to pre-empt wrong or failed disbursements.
Or let customers do it for themselves
If you're sending payouts directly to your customers, consider using xenpayouts. With xenpayouts, you can simply enter the payout amount and we will generate a secure link where policyholders can input their payment destination details. Simply send the link to policyholders and we will disburse the fund to the bank account or e-wallet of their choice.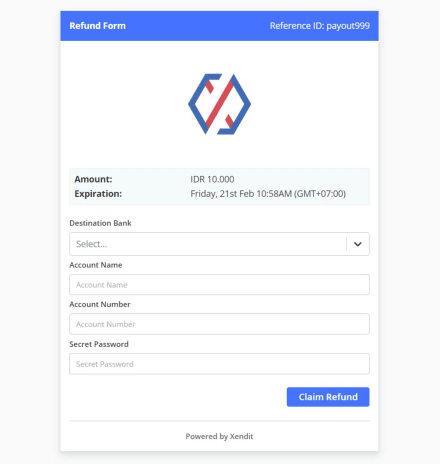 xenPlatform
If your insurance business is working with multiple agents and partners, you can use our xenPlatform product. xenPlatform helps insurance businesses manage payments across multiple parties. You can set up sub-accounts for each agent and partner and customize permission for different sub-accounts. For example, you can restrict agents' sub-accounts to only generating invoices.
xenPlatform enables you to split payments between you and your agents. You can define how much money is accepted into your platform and how much should be rerouted to your agents. Additionally, you can track each agent's activity and performance in a centralized dashboard.
Integrate with Xendit now
Accepting payment methods preferred by your customers can help to increase conversion and revenue for your business. With Xendit, easily enable payment methods such as e-Wallets, virtual accounts (bank transfers), credit / debit cards, retail outlets and even cardless credit. Get started fast with no set up or monthly fees. You can contact us via live chat for specific enquiries and speak to our sales representatives for personalized solutions.
Find out more about all Xendit, or sign up to try our dashboard today!