Players in Indonesia spent a total of USD 1.1 billion on games in 2018, making it one of the biggest games markets in Southeast Asia. Furthermore, with the stay at home notice, consumers have been increasingly turning to more forms of entertainment and gaming than before. Create a great gaming experience and enable your users to pay easily via e-Wallets, bank transfers (virtual accounts) and retail outlets. Whether your users want to make game purchases or top-ups on weekends or late at night, they can now do so instantly and seamlessly.
You'll learn:
How to accept all our payment methods immediately

Free tools to send invoices via a link you can simply paste and share

How to easily send out payments for game prizes, payroll
A quick introduction to online payments
Xendit allows you to accept online payments from your customers wherever they are, e.g. from Jakarta, Medan or Singapore. 
Your customers can pay you with:
Bank transfers – your customers can pay into Big 4 banks, this means no transfer fees no matter what bank they are using
Cards – debit and credit cards from all over the world
e-Wallets – any of Indonesia's major e-Wallets
Retail outlets – Alfamart or Indomaret
QR codes
Once a customer pays you and the funds are received, you instantly see the balance on your Xendit dashboard, which you can access from your phone or computer. You can then withdraw this to any of your bank accounts.
Simplicity
No more tracking receipts. We can send both you and your customer an email confirmation at the moment of payment, so that you can focus on your business, instead of on accounting.
Security
 Xendit processes millions of transactions every month for customers like Traveloka, Tiket and Samsung.  Xendit is PCI DSS Level 1 compliant (the highest certification in the world) so we go to extreme lengths to keep you and your customers safe.  
Pricing
Xendit only makes money when you do. We charge a small fee for each transaction.  You can use our invoices for absolutely free.
Accept payments online
Step 1: Create a Xendit account
It's free to create a Xendit account and takes about 30 minutes – from start to finish:
Once you've created your account, you'll need to activate your account based on your entity.  Don't worry, you can accept most payment methods even if your business isn't registered yet.
Step 2: Create, customize and manage invoices
Creating an invoice
Inside your dashboard, go to the "Invoices" tab under "Accept Payments".  Click "Create" button in the top right and generate an invoice.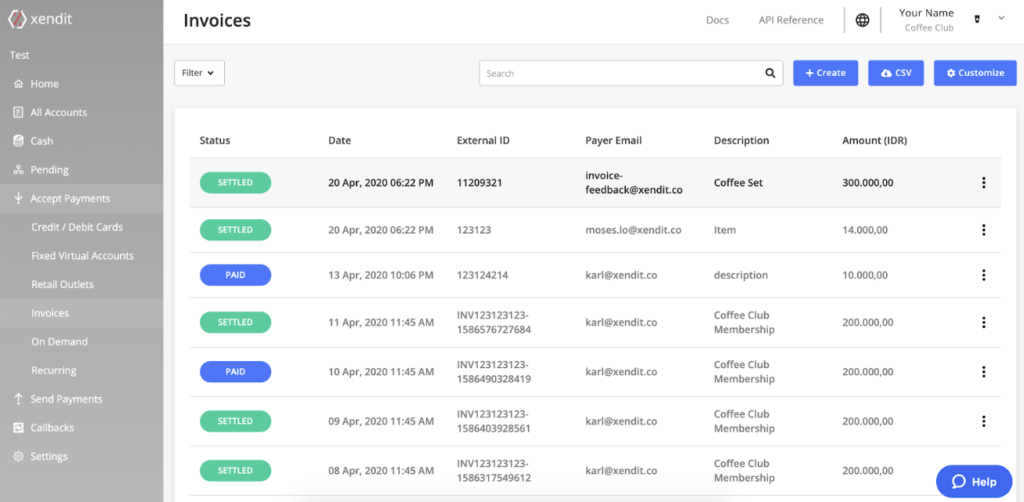 On demand invoices
Inside your dashboard, go to the "On Demand" tab under "Accept Payments".  Click the "Create On Demand" button in the top right and generate an invoice. Once you set it up, whoever clicks the link and enters their information will generate their own invoices.
Recurring payments
Ideal if you have a subscription-based business and want recurring payments.  You can generate recurring invoices with a single set up via the dashboard too.  
If you want to accept recurring payments, create a recurring charge in the "Recurring" tab under "Accept Payments" in your Xendit dashboard. As an example, should you need to bill users on a weekly or monthly basis, the invoices will be generated and sent automatically. You can also choose to set reminders for upcoming payments for your users as an option.
Other ways to get started
Depending on your setup, you can also choose from the following::
Live URLs where you can simply send a link via WhatsApp, Facebook Messenger, LINE or other platforms

Web/ mobile checkout is another option if your website is built with plugins including WooCommerce

APIs

if you have your own app or have more complex requirements
Step 3: Send the link to your customer and get paid
After you create your invoice, you'll see that a link has been created.  It will look something like this: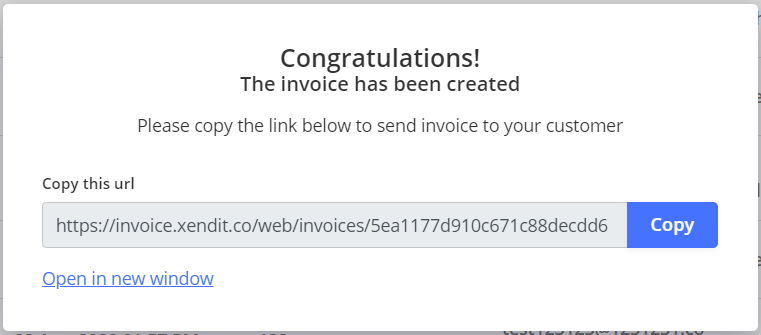 Copy that link and send it to your customer, via Instagram's direct messages, WhatsApp, LINE and any other favourite messaging app. Your customer can pay through all the payment methods available and turned on. You can also check the invoice anytime by using the same link.
When your customer clicks the link, your customer can choose their preferred payment method to pay you with.  So, sit back and relax while your payment is processed to your account.
We can also do disbursements, payroll online and simplify sending out payments for game prizes 
Besides accepting payments from your users, your may want to make payments to your staff, suppliers or vendors. When running in game contests or sweepstakes, you may also have to send out cash payments to your users for game prizes, which can be manual and limited to individual transfers.
Xendit has an easier solution with xenbatch where you can make payments digitally. With the usage of a simple excel file, you can send up to 10,000 payments at a single time, and do away with manual and individual transfers. In addition, these payments can be made instantly across 140+ banks and e-Wallet destinations, even when banks are closed, on public holidays and after working hours. No more manual process or errors, simplify your operations, save time for your team and delight your users with speedy rewards.
We're here to help
Create an even better gaming experience and enable your users to make game purchases and top-ups easily. If you have any questions, we're eager to help!  You can contact us via live chat when you're logged into your account.  
Find out more about Xendit, or sign up to try our dashboard today!