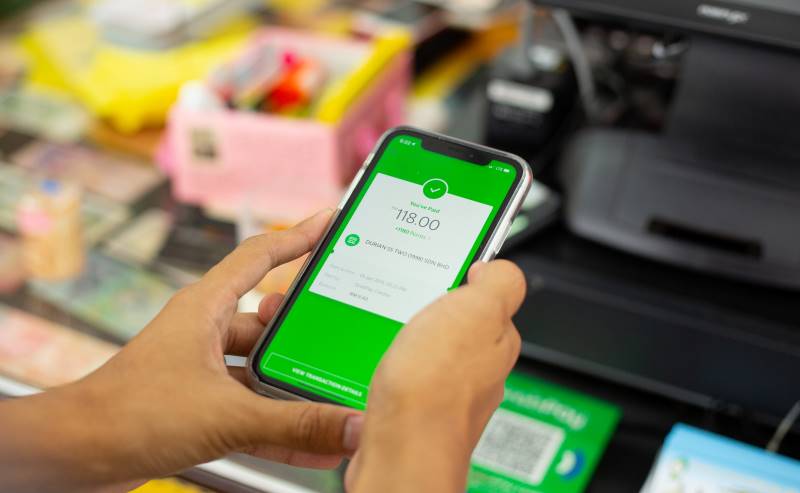 The Philippines' digital economy blossomed during the pandemic. While the emergency lockdown measures initially de-accelerated economic growth, the rapid cross-sector digitization opened up new pockets of growth for online businesses.
During the pandemic, 52% of Filipinos shopped online for the first time. Digitization among the Philippines population is not limited to the capital, Metro Manila. Consumers outside major metro areas (Manila, Cebu, and Davao) are catching up, with 54% of first-time online shoppers living in the non-metro areas.
The Philippines Internet economy is expected to grow at 30% and reach $28 billion by 2025
One of the key drivers for such growth is the emergence of digital payments popularity. Before the pandemic, 7 out of 10 online transactions were settled in cash (cash on delivery and over the counter). Post pandemic, only 5 out of 10 were settled in cash, marking the growth of digital payments in the country.
Among the digital payment methods, e-Wallets are the clear winners. The chart below shows the share of payment methods used in making payments for online transactions, where e-Wallet experienced a 16% increase in May 2021, compared to the previous month.
Top 5 e-wallets in the Philippines
Gcash — a wallet service by the local telecom player, Globe, has over 33 million users and over 63,000 partner merchants across the country.
PayMaya — an e-money offering from another telecom, Smart Communications, with 28 million active users and 200,000 touchpoints nationwide for sending payments, topping up accounts, or cashing out.
GrabPay — a wallet by the eponymous ride-hailing service. Launched the first digital-first GrabPay card last year, in partnership with Mastercard.
While usage continues to rise, it is interesting to examine eWallet usage among adopters. To understand e-Wallets usage better, we analyzed transactions processed on our payments platform, to gain insight into the different amounts of transactions made using each payment method.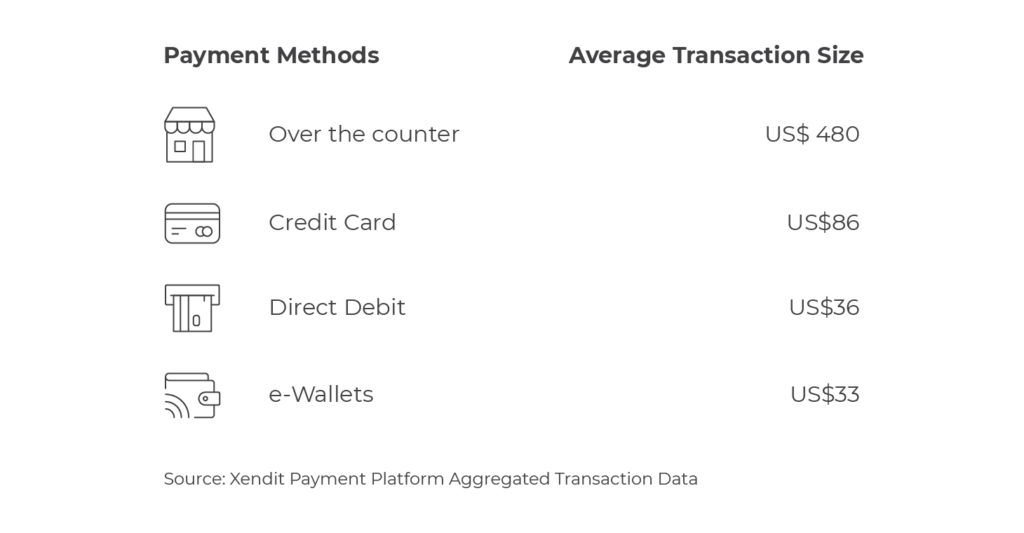 The average ticket size for an e-Wallet payments transaction is around US$33 or around ₱1650 which is lower compared to other digital payment channels such as credit cards and direct debit. Over-the-counter payment, typically paid using cash in retail stores like 7-Eleven and Cebuana, recorded a significantly higher average transaction size, almost 15x that of e-Wallets.
Such discrepancies can be attributed to Filipinos' perception of security risks. Large segments of users are wary of possible hacking and personal data breaches associated with digital payments. While consumers may adopt e-Wallets to make small purchases, they tend to make payments in cash when making big purchases.
What does this mean for businesses?
To succeed at increasing sales and conversion, business owners will need to assess their industry sector and business model to decide the payment method that they need to enable. While e-Wallet adoption is increasing, business owners might still need to accept cash payments for high-value transactions.
Rather than integrating with different partners one by one, which can take a long time and complex processes, consider integrating with a payment gateway like Xendit. With a single registration to Xendit, your business can enable various payment methods such as credit/debit cards, direct debit, e-Wallets and over-the-counter payments, to offer to your customers.
About Xendit
Xendit is a financial technology company that provides payment solutions and simplifies the payment process for businesses in Indonesia, the Philippines and Southeast Asia, from SMEs and e-commerce startups to large enterprises. Amidst the fragmented payment landscape in Southeast Asia, Xendit enables businesses to accept payments from direct debit, virtual accounts, credit and debit cards, eWallets, retail outlets, and online installments
For many businesses, accepting payments online is new territory, but we're here to help. We have helped 1000s of businesses come online and we'd love to help you too.
Find out more about Xendit, or sign up to try our dashboard!